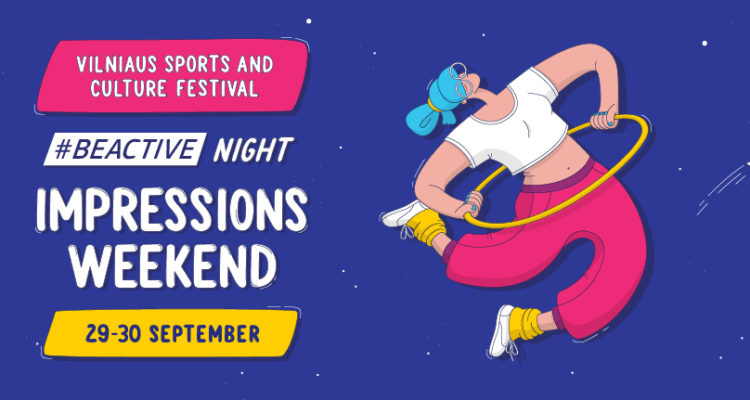 On 29-30 September 2018, Lithuanian Exhibition and Congress Centre LITEXPO, Budgetary Institution Kirtimų Kultūros Centras, Public Institution Sveikas Miestas and Association Sportas Visiems are organising Vilnius Sports and Culture Festival at Lithuanian Exhibition and Congress Centre LITEXPO, Vilnius, which encompasses a number of events within the European Week of Sport weekend #BEACTIVE NIGHT!
Vilnius Sports and Culture Festival is an event to celebrate inventiveness and creativity, as well as to promote physical activity.
#BEACTIVE Night is a weekend of the European Week of Sport events in Vilnius that will take the form of an evening mass sport fiesta (Zumba flash mob, training sessions with renowned foreign instructors and a night run).
This is one of the largest sports and culture events in Vilnius that brings together a great many cultural organisations, sports and wellness clubs and sections, representatives of a number of sport brands, professional athletes and supporters of healthy lifestyles.
VISIT US:
Building No 1 (Halls 1 and 2):
EXHIBITION OF CULTURE, EDUCATION AND ART INSTITUTIONS: presentation of educational activities carried out by culture and art organisations and non-formal education institutions, a variety of initiatives promoting cultural activity; also creative workshops for children in different age groups, concerts/performances on the main stage of the festival, lectures, discussions, movies and an art fair.
Hall 3: WELLNESS AND SPORTS GOODS EXHIBITION: sports entertainment, presentations of sports news, reports.
Hall 4: #BEACTIVE NIGHT with the most famous European and US instructors (ZUMBA flash mob with Loretta Bates) and
WELLNESS STUDIES AND SPORTS CLUBS EXHIBITION: wellness, sports studies and clubs exhibition, shows, open training sessions
Hall 5: SPORTS SECTIONS FAIR: clubs and sections fair, interactive zones, martial arts clubs ad open tournaments zones ('Try Sports')
Conference Centre (Hall 5, 2nd floor): WELLNESS AND SPORTS CONFERENCE 'ACTIVE TRAINING'
DON'T MISS OUR EXCLUSIVE EVENT OF THE YEAR during which we will be celebrating SPORTS and CULTURE!
To become part of the festival REGISTER your organisation at http://www.sportofestivalis.lt/
*Tickets available from BILIETAI.LT
**New impressions also generated by 15min, ZIP FM, Radijo stotis "Radiocentras"
FOR THE WEEKENDS OF NEW EXPERIENCES! 😉
ACTIVITY PROMOTED BY Vilnius City Municipality!
Also join us on Facebook!